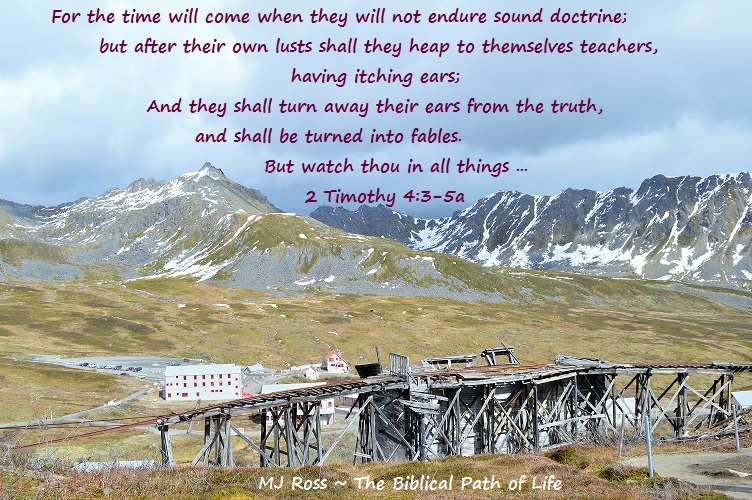 Paul wrote encouraging words to Timothy, for he was to never forget the faith instilled within him or to be ashamed of the testimony of the Lord. But he also wrote Timothy words of warning that are relevant – especially today!
Paul told Timothy to "Hold fast the form of sound words, which thou hast heard of me, in faith and love which is in Christ Jesus" (2 Timothy 1:13). The word sound here means "sound doctrine; as in true, pure, uncorrupted." Timothy was encouraged to hold on tightly, or possess, the pure doctrine that Paul had taught him. The same sound doctrine that we have recorded in God's Word, the Bible. But in order to know what that sound doctrine is, we must read and study God's Word. That is why Paul taught Timothy to "Study to shew thyself approved unto God, a workman that needeth not to be ashamed, rightly dividing the word of truth" (2 Timothy 2:15). It was important that Timothy understood that he had to not only study the Bible, but he must "rightly" divide the word of truth. One must compare Scripture with Scripture. He had to understand and know the true doctrines written within the Bible in order to recognize false teaching and stay away from it.
Paul warned, "This know also, that in the last days perilous times shall come" (2 Timothy 3:1). He wanted Timothy to understand that times would become difficult and dangerous. Paul went on to warn: "Having a form of godliness, but denying the power thereof: from such turn away" (2 Timothy 3:5). Times would come when things would look and sound good, having the form of something real, but it would deny the power that would make it real – faith in Jesus. By having a form of something real or true, many could be deceived or tricked into believing they had something real. Most people (or churches) are prepared for an attack on them from the outside. But when it comes from within, people are surprised – caught off guard. There is something to be said about "conquering from within." We are prepared for the enemy outside of the camp, but woefully unprepared when the enemy comes from within. False doctrine is often able to creep in unaware until it is too late. True doctrine must be known in order to defend it against false doctrine. The only way to know the difference is to study God's Word and know it.
"3. For the time will come when they will not endure sound doctrine; but after their own lusts shall they heap to themselves teachers, having itching ears; 4. And they shall turn away their ears from the truth, and shall be turned unto fables. 5. But watch thou in all things …" (2 Timothy 4:3-5a). Today it is too easy to listen to teachers (or preachers) tell us what good people we are and what good things we are doing for the kingdom of God. They sound so nice and make us feel so good about ourselves. But words like these turn ears away from the truth of God's Word; for there is nothing good in mankind – unless one has given their heart and life to Jesus, living according to the Bible and its teachings. Any other teaching is a fable – fiction, not real. Knowing this would happen, Paul warned Timothy to "watch" in all things. He was to be ready by knowing the Bible and its true teachings.
Do you hold fast to true doctrine?
Have you studied to show yourself approved and not ashamed?
Do you endure sound doctrine or have itching ears?
Be sure to watch!