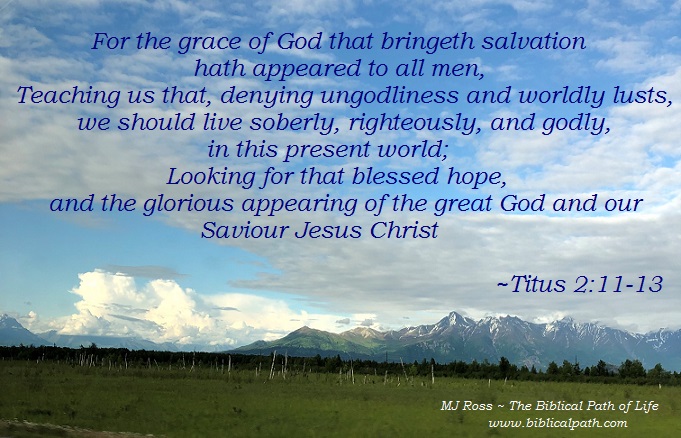 The only good work one can do in and of themselves is explained simply by Jesus, Himself, when He was asked by the people. "28. Then said they unto him, What shall we do, that we might work the works of God? 29. Jesus answered and said unto them, This is the work of God, that ye believe on him whom he hath sent" (John 6:28-29). So the only good work anyone can do is to believe on Jesus. And when someone believes on Jesus, their life is forever changed. A new life in Christ begins. One begins to learn what the Bible teaches and applies those things to their life. Titus chapters two and three are a great place to read to understand some of the ways a Christian is to live. And as we choose to life a life pleasing to Jesus, we are to watch for His coming. "11. For the grace of God that bringeth salvation hath appeared to all men, 12. Teaching us that, denying ungodliness and worldly lusts, we should live soberly, righteously, and godly, in this present world; 13. Looking for that blessed hope, and the glorious appearing of the great God and our Saviour Jesus Christ; 14. Who gave himself for us, that he might redeem us from all iniquity, and purify unto himself a peculiar people, zealous of good works" (Titus 2:11-14). Notice that not only did Jesus come to redeem us, but we are to be zealous of good works. Remember what the only good work is that we can do? Believe upon Jesus, God's Son. Any other good we do is because we have done that – for it is an outflow of appropriating our faith in Jesus into every aspect of our lives.
God sent Jesus into the world to "seek and to save that which is lost" (see Luke 19:10). Who is lost? Anyone who does not believe that Jesus is God come in the flesh to pay the penalty for man's sin with His death on the cross. Why is this so hard for people to believe? "3. But if our gospel be hid, it is hid to them that are lost: 4. In whom the god of this world hath blinded the minds of them which believe not, lest the light of the glorious gospel of Christ, who is the image of God, should shine unto them." (2 Corinthians 4:3-4).
The grace of God that brings salvation is available to anyone.
The invitation is simple. But it must be received.
Are you ready to do the work of God?