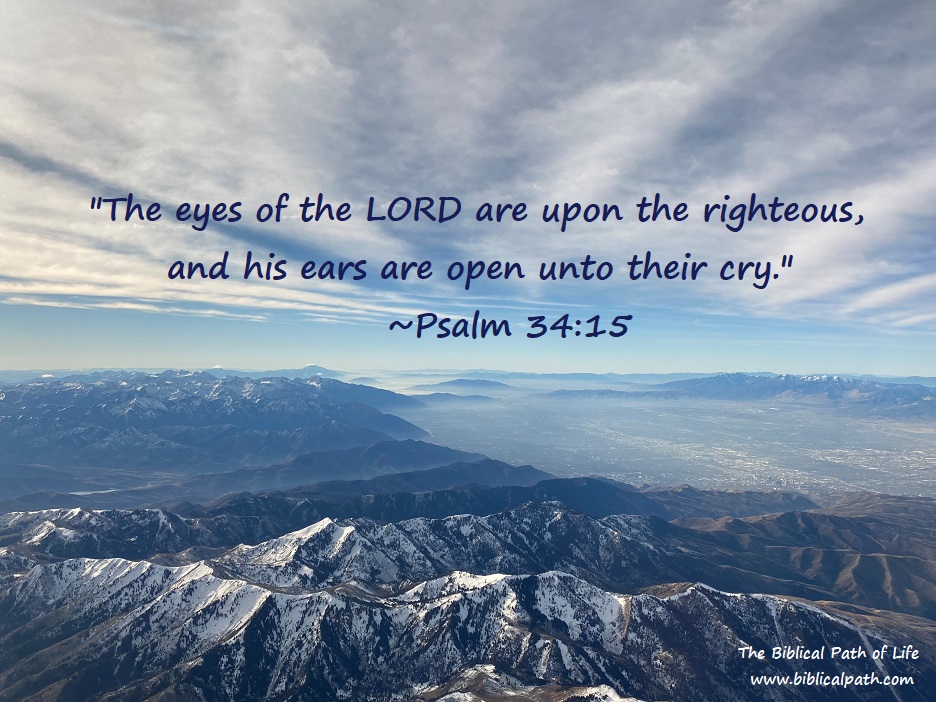 "The eyes of the LORD are upon the righteous, and his ears are open unto their cry."
Psalm 34:15
There are three men that are mentioned as righteous in the Bible: Noah, Daniel, and Job. "Though these three men, Noah, Daniel, and Job, were in it, they should deliver but their own souls by their righteousness, saith the Lord GOD" (Ezekiel 14:14). I would like you to consider Daniel, a man about whom we find nothing bad written.
Do you remember when the men in King Darius' court were searching to find "occasion against Daniel" but could not (see Daniel 6:4)? The only area in which they thought they could find something was between Daniel and the Law of his God (see Daniel 6:5). In other words, they were grasping at straws to find anything to use against him. They ended up deceiving the king to make a law (a royal statute) that would implicate Daniel. If you remember, God saved Daniel's life by sending an angel to close the mouths of the lions (see Daniel 6:6-24).
This same Daniel understood by the reading of "the books" (specifically of Jeremiah), that God would allow His people to return to the land of Israel after seventy years of captivity in the land of Babylon ended (see Daniel 9:2). Daniel believed God's Word. Consider also, that by the reading of "the books", he may have read the book of Isaiah that declared the leader who would allow the Israelites to return to their land. "That saith of Cyrus, He is my shepherd, and shall perform all my pleasure: even saying to Jerusalem, Thou shalt be built; and to the temple, Thy foundation shall be laid" (Isaiah 44:28). This Cyrus was mentioned, by name, many years before he was even born.
What would you do if you recognized that God had done exactly what He said He was going to do (allowed the Israelites to be taken captive into Babylon for seventy years)? What would you do if you read more of God's Word, understanding what God still planned to do? Read what we are to understand: "The eyes of the LORD are upon the righteous, and his ears are open unto their cry" (Psalm 34:15).
Daniel began to pray (with fasting) to the Lord. He began by acknowledging who God is (see Daniel 9:4). Read some of his prayer. "5. We have sinned, and have committed iniquity, and have done wickedly, and have rebelled, even by departing from thy precepts and from thy judgments: 6. Neither have we hearkened unto thy servants the prophets, which spake in thy name to our kings, our princes, and our fathers, and to all the people of the land" (Daniel 9:5-6). One should recognize that he first admitted, "We have sinned". He acknowledged that God's people had not listened to the prophets who had warned them of this coming judgment from God. Daniel prayed on behalf of himself and all of the Israelites.
Daniel acknowledged something very important. "O Lord, righteousness belongeth unto thee, but unto us confusion of faces, as at this day; to the men of Judah, and to the inhabitants of Jerusalem, and unto all Israel, that are near, and that are far off, through all the countries whither thou hast driven them, because of their trespass that they have trespassed against thee" (Daniel 9:7). Righteousness belongs to God, for only He is truly righteous. Daniel's prayer is recorded in Daniel 9:5-19. Daniel understood that he was a sinner, just like every other person. He recognized that he, too, needed to repent before God. It would be good for all Christians to acknowledge this as well.
Have you considered the importance of Daniel praying? After reading God's Word ("the books"), he understood God had fulfilled the promise of the captivity of His people. In this prayer, Daniel is revealing his faith that God will fulfill His promise of allowing the Israelites to return to their homeland. However, by this prayer we can understand that Daniel acknowledged the sin of the people was the reasoning for the discipline of the captivity in Babylon. And Daniel was asking God to forgive them, in case the people had not adequately asked God for forgiveness.
An amazing thing happened while Daniel was praying. Gabriel, an angel from God, went to Daniel and gave him some of the most specific and amazing prophecy for all to know. Some has been fulfilled, and some will be fulfilled in the near future (see Daniel 9:20-27).
What can we learn from Daniel in this instance? As we recognize God fulfilling promises found in His Word, we also understand there are things that God has not fulfilled – as of yet. Christians should pray. It is important for a Christian to remember: God is righteous, and even Christians are sinners. We are to acknowledge when we "have sinned, and have committed iniquity, and have done wickedly, and have rebelled, even by departing from thy precepts and from thy (God's) judgments". We then repent and return to God, forsaking the sin, and make sure we are living a life that is pleasing to God. It is then we will be able to recognize as God working in the world as He fulfills His Word in these days.
Do you read God's Word wanting to understand the plan He has in these days?