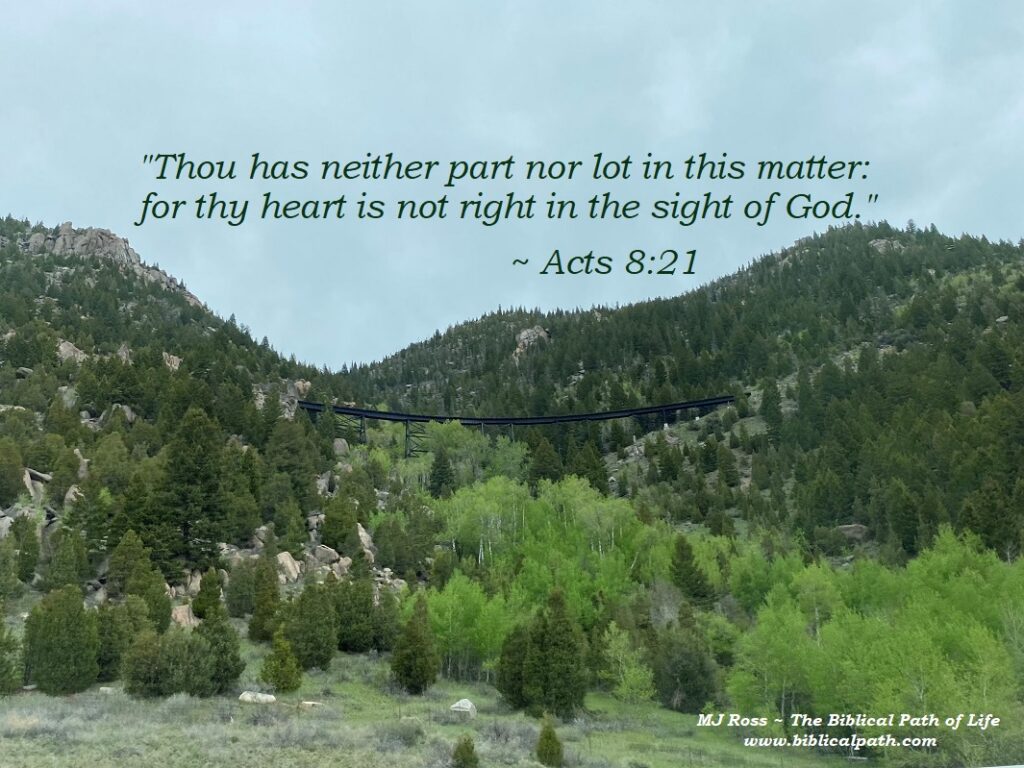 "Thou hast neither part nor lot in this matter: for thy heart is not right in the sight of God."
Acts 8:21
Satan is very religious. He does not mind if people are religious. He actually uses religion to deceive people. There is a very interesting case in point found in the book of Acts.
Philip had preached Jesus to the people of Samaria (see Acts 8:5-25). He did many miracles, unclean spirits were cast out, and many were healed. Remember that this was the beginning of the establishment of the church, and that was why these special miracles took place. Many people heard Philip's teachings. "But there was a certain man, called Simon, which beforetime in the same city used sorcery, and bewitched the people of Samaria, giving out that himself was some great one" (Acts 8:9). When he declared himself as "some great one", many had thought he was the "great power of God" because he had bewitched them with sorceries for so long (see Acts 8:10-11). He had practiced what could be called a "religion." It is good to understand that Satan comes with power, signs, and lying wonders. Moreover, one day these things will be personified in The Anti-Christ. "Even him, whose coming is after the working of Satan with all power and signs and lying wonders" (2 Thessalonians 2:9).
However, when Philip preached Jesus to the Samaritans, they believed upon Jesus (see Acts 8:12). "Then Simon himself believed also: and when he was baptized, he continued with Philip, and wondered, beholding the miracles and signs which were done" (Acts 8:13). We read that Simon believed also. The Apostles came when they heard the people of Samaria had received the Word of God. When Simon saw these Believers received the Spirit of God, he offered the Apostles money because he wanted to be able to do this himself. Nevertheless, Peter understood that Simon thought the gift of God could be purchased with money. Simon did not understand salvation. It is a free gift. "Being justified freely by his grace through the redemption that is in Christ Jesus" (Romans 3:24).
Peter recognized the condition of Simon's heart. "Thou hast neither part nor lot in this matter: for thy heart is not right in the sight of God" (Acts 8:21). It would be good to remember that Jesus had dealt with this heart issue before. Jesus had done many miracles, and many people believed. Yet read what Jesus understood about those people. "23. Now when he was in Jerusalem at the passover, in the feast day, many believed in his name, when they saw the miracles which he did. 24. But Jesus did not commit himself unto them, because he knew all men, 25. And needed not that any should testify of man: for he knew what was in man" (John 2:23-25). There is a difference in when one believes in the miracles, and when one believes with the heart unto salvation. Remember how Jesus put it: "Verily, verily, I say unto you, He that heareth my word, and believeth on him that sent me, hath everlasting life, and shall not come into condemnation; but is passed from death unto life" (John 5:24). We remember the importance of belief in Jesus: "And they said, Believe on the Lord Jesus Christ, and thou shalt be saved, and thy house" (Acts 16:31). It is not enough to believe in God. One must believe that Jesus Christ (the Messiah) is God. Remember that the devils, too, believe in God. "Thou believest that there is one God; thou doest well: the devils also believe, and tremble" (James 2:19). However, we know they are not saved. They have remained devils.
How can one tell when one believes in the heart that Jesus Christ, the Messiah, is God come in the flesh to pay the penalty for man's sin? "Therefore if any man be in Christ, he is a new creature: old things are passed away; behold, all things are become new" (2 Corinthians 5:17). The heart is changed. There is a complete change – inside and out.
What did Peter understand about Simon, the sorcerer? First, Simon was not a true Believer because his heart was not right, and he needed to repent. "21. Thou hast neither part nor lot in this matter: for thy heart is not right in the sight of God. 22. Repent therefore of this thy wickedness, and pray God, if perhaps the thought of thine heart may be forgiven thee" (Acts 8:21-22). In what condition did Peter recognize Simon's heart was? "For I perceive that thou art in the gall of bitterness, and in the bond of iniquity" (Acts 8:23). Simon's heart was not right; therefore, he was in the "gall of bitterness". Gall here means "poison" and bitterness means "a piercing poison." The word bond means "the uniting principle" and iniquity means "wrongfulness." Peter was pointing out that Simon's heart issue was a piercing poison that was uniting him in wrongfulness. When Simon was confronted with the condition of his heart, we do not read that he repented. "Then answered Simon, and said, Pray ye to the Lord for me, that none of these things which ye have spoken come upon me" (Acts 8:24). He just asked Peter to pray for him. Simon recognized that he was a counterfeit Christian. He only had a religion. Yet he did nothing about it. He was content to remain in that condition.
Have you believed with your heart that Jesus Christ is God, becoming a new creature in Him?
Or
Are you a counterfeit Christian whose heart has not truly believed?