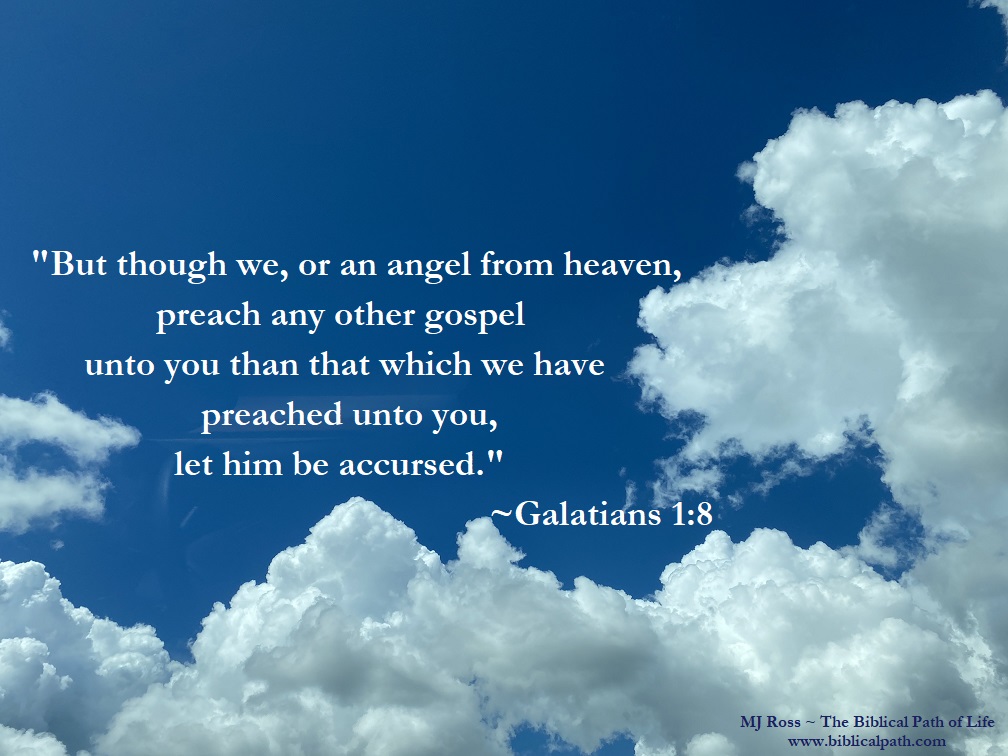 Apostle Paul, the great missionary had not given his life to please men (see Galatians 1:10-12). He was not teaching a "feel good" doctrine, or a comfortable non-confrontational Gospel. Paul had given his life to be the "servant of Christ." In that, he could only faithfully teach the truth of the Gospel message that salvation is only by faith in Jesus. He then presented his case (see Galatians 1:10-24).
Paul understood the Law of Moses for he had been trained in that Law; taught to obey that Law. Because of Paul's belief in that Old Testament Law, when he heard of the growing church of God, he persecuted it – believing it to be wrong. He even excelled in his position within that religious system. But then Jesus called upon Paul's heart, and by His grace, Paul was saved. Although Paul knew and understood the Old Testament, when Jesus called upon his heart, he recognized that there was more for him to learn – something he had missed. He had not recognized that the Law and all of the Old Testament pointed to Jesus. He understood something very important. "8. For by grace are ye saved through faith; and that not of yourselves: it is the gift of God: 9. Not of works, lest any man should boast" (Ephesians 2:8-9). He understood that obeying the Law could not save him. Only faith in Jesus could save him. He believed in Jesus and became a new person.
Paul defended that life-changing Gospel to the Churches at Galatia (which he had planted as a missionary). Paul wrote to them when he heard that they had forgotten that salvation is by faith. Instead, the people had become legalistic – placing themselves back into obedience of the Old Testament Law. Paul was shocked. "6. I marvel that ye are so soon removed from him that called you into the grace of Christ unto another gospel: 7. Which is not another; but there be some that trouble you, and would pervert the gospel of Christ. 8. But though we, or an angel from heaven, preach any other gospel unto you than that which we have preached unto you, let him be accursed" (Galatians 1:6-8). Paul revealed that some teachers, those who had come in and taught them, had perverted the Gospel of Christ. Pervert means "in a bad sense, to turn into something else; to change for the worse." It was not another gospel; it was completely false – for they had changed the Gospel message. The Gospel message can be presented in different ways, but the basis can never be changed, or altered. Paul warned that if anyone preached something other than Jesus saves by grace, they were to "let him be accursed." Accursed means "given up to the curse and destruction; not punishment intended as discipline, but given over to divine condemnation (declared guilty and doomed to punishment)."
Paul continued, in his frustration, over their quick reception of wrong teaching from a false teacher. Read what had happened. "And that because of false brethren unawares brought in, who came in privily to spy out our liberty which we have in Christ Jesus, that they might bring us into bondage" (Galatians 2:4). False brethren means "those who had outwardly become members of the church, sharing in fellowship, but inwardly they were not Christians, having no right to be counted as brothers – for they were missing the kinship of spiritual life." These "false brethren" had come into the church. They had brought in doctrines that were intended to destroy the Gospel message along with those who preached the Gospel truth. Those false teachers entered into the church spreading legalism (obeying the Law), opposing the freedom from the confines of the Law that Jesus brought.
But does that mean the Law is unnecessary? Remember the purpose of the Law: "19. … all the world may become guilty before God. 20. Therefore by the deeds of the law there shall no flesh be justified in his sight: for by the law is the knowledge of sin" (Romans 3:19b-20). The Law came to reveal sin, not to save man from sin. "Knowing that a man is not justified by the works of the law, but by the faith of Jesus Christ, even we have believed in Jesus Christ, that we might be justified by the faith of Christ, and not by the works of the law: for by the works of the law shall no flesh be justified" (Galatians 2:16). Man can only be saved by faith in Jesus who fulfilled the Law, purchasing man's freedom from the confines of the law. Paul reminded them of this freedom. Remember what Paul wrote in Romans about Jesus delivering Christians from the Law. "But now we are delivered from the law, that being dead wherein we were held; that we should serve in newness of spirit, and not in the oldness of the letter" (Romans 7:6). Christians are to live a new life in newness of spirit – not the confines of the Law. Paul emphasized that because we have God's Spirit, we are to live our lives unto God.
Have you believed the true Gospel message of Jesus through faith, and that it is not of works?