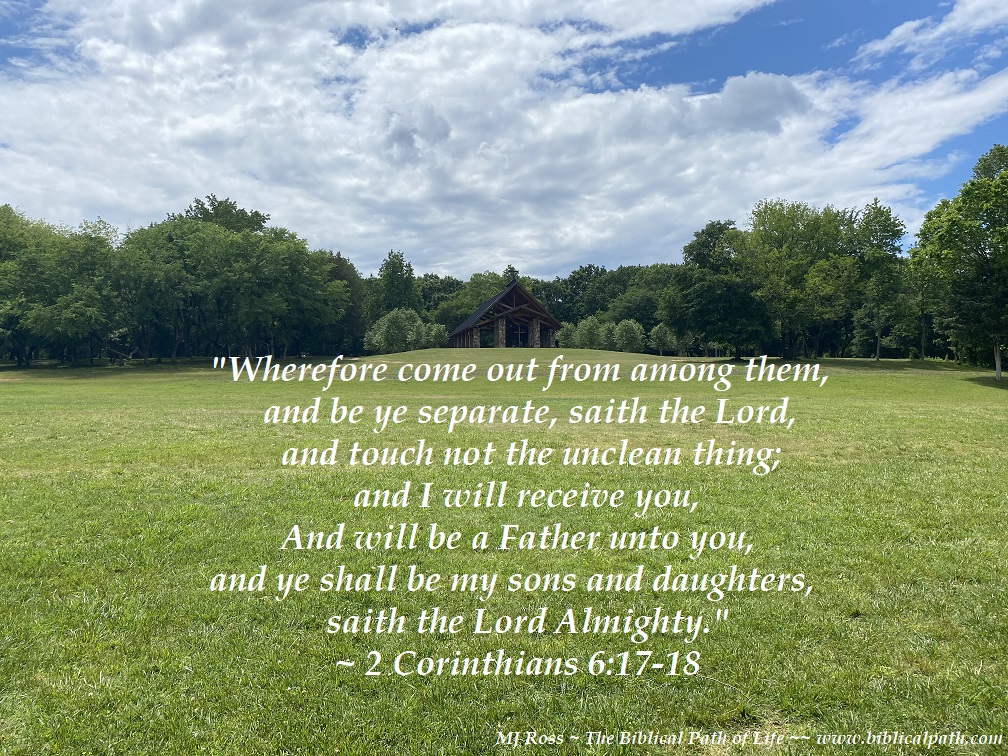 Paul loved the church at Corinth and poured his heart and life into them as he taught them how to live faithfully, pleasing Christ. We found that Paul taught each Christian to be an ambassador for Christ, representing Him to the world (see 2 Corinthians 5:20-21). Paul continued teaching the Corinthians by reminding them that it is an individual choice as to how to live. He challenged the Corinthian Christians by bringing further instruction on how to live a Christ-like life.
Christians must separate from things contrary to God. "14. Be ye not unequally yoked together with unbelievers: for what fellowship hath righteousness with unrighteousness? and what communion hath light with darkness? 15. And what concord hath Christ with Belial? or what part hath he that believeth with an infidel?" (2 Corinthians 6:14-15).
Righteousness means "the state commanded by God and standing the test of His judgment; God's uprightness or standard to which man is expected to conform."
Unrighteousness means "lawlessness; the violation of God's divinely instituted Law; sin; iniquity; although there may not be a specific law against depraved or lustful desires, they are still sin."
Communion means "fellowship with; participation."
Paul began by encouraging each Believer to understand that they were to not fellowship with, or even participate with, those who live contrary to God's Word (this includes friendships with, business partnerships with, or even marriage to, unsaved people). Christians must recognize that there is no common ground between them and the lost. Instead, see what Paul wrote they were to do. "17. Wherefore come out from among them, and be ye separate, saith the Lord, and touch not the unclean thing; and I will receive you, 18. And will be a Father unto you, and ye shall be my sons and daughters, saith the Lord Almighty" (2 Corinthians 6:17-18). Come out means "to depart from someone's presence, the intimacy." Touch not the unclean thing means "to have no dealings with the heathens (non-believers)." The message had not changed – for just as in the Old Testament God called for His people to separate from the nations around, God calls for Christians to separate from the lost world around. Did you notice the promises God gave? "… and I will receive you, 18. And will be a Father unto you, and ye shall be my sons and daughters…" (2 Corinthians 6:17b-18). Father means "God as the creator, preserver, governor of all men and things, watching over them with paternal love and care." Understand that Christians are the children of God. He is able to be a loving Father to us when we live right, but He must be a disciplining Father when we choose to live contrary to His Word (see Hebrews 12:5-8).
What is a Christian who lives here in this world to do? Cleanse and eliminate. "Having therefore these promises, dearly beloved, let us cleanse ourselves from all filthiness of the flesh and spirit, perfecting holiness in the fear of God" (2 Corinthians 7:1). First, understand the promise God gave: He will be a Father, the one who protects and watches over Believers with love and care. That should give any Christian the courage to choose to do what is right: "cleanse ourselves from all filthiness of the flesh and spirit." Cleanse means "to purify from the pollution and guilt of sin – in a spiritual sense." Christians are to remember that once Jesus has entered into the heart, "filthiness of the flesh and spirit" must be eliminated. Filthiness means "anything that defiles (to make unclean or impure)." Any sin is unacceptable.
Christians must correct their lives. Paul understood this would be difficult (see 2 Corinthians 7:4).
Is correction necessary?
Does correction often go unheeded?
Does anyone really like to be told they are doing something wrong?
Paul had a difficult decision – allow sin to continue, or confront the problem and encourage the people to eliminate the sin that separates from a right Christian life. Paul had great confidence that the church at Corinth would receive this instruction, living a better life before God – as ambassadors representing Christ. He also understood their initial reaction would probably be anger, but once they understood and repented, they would be better Christians. "For behold this selfsame thing, that ye sorrowed after a godly sort, what carefulness it wrought in you, yea, what clearing of yourselves, yea, what indignation, yea, what fear, yea, what vehement desire, yea, what zeal, yea, what revenge! In all things ye have approved yourselves to be clear in this matter" (2 Corinthians 7:11). Use the following definitions to help you understand this verse:
Carefulness means "earnest effort; diligence."
Clearing of yourselves means "to give an answer or speech in defense of oneself."
Indignation means "to be under a great burden which results in indignation (holy displeasure in oneself for sin)."
Fear means "reverence; respect; honor."
Vehement desire means "strong affection; to desire earnestly."
Zeal means "used in a good sense means to be hot or fervent."
Revenge means "penal retribution or vengeance to the evildoer."
Approved means "to make known; declare; to show."
Clear means "innocent; blameless; pure."
Matter means "the thing being done or to be done; matter; business."
These things are what the Corinthian Christians achieved because they received and obeyed Paul's instruction of how to live a Christ-like life. 
Are you willing to obey God's Word, putting away sin and the unclean thing, choosing instead to become Christ's Ambassador?