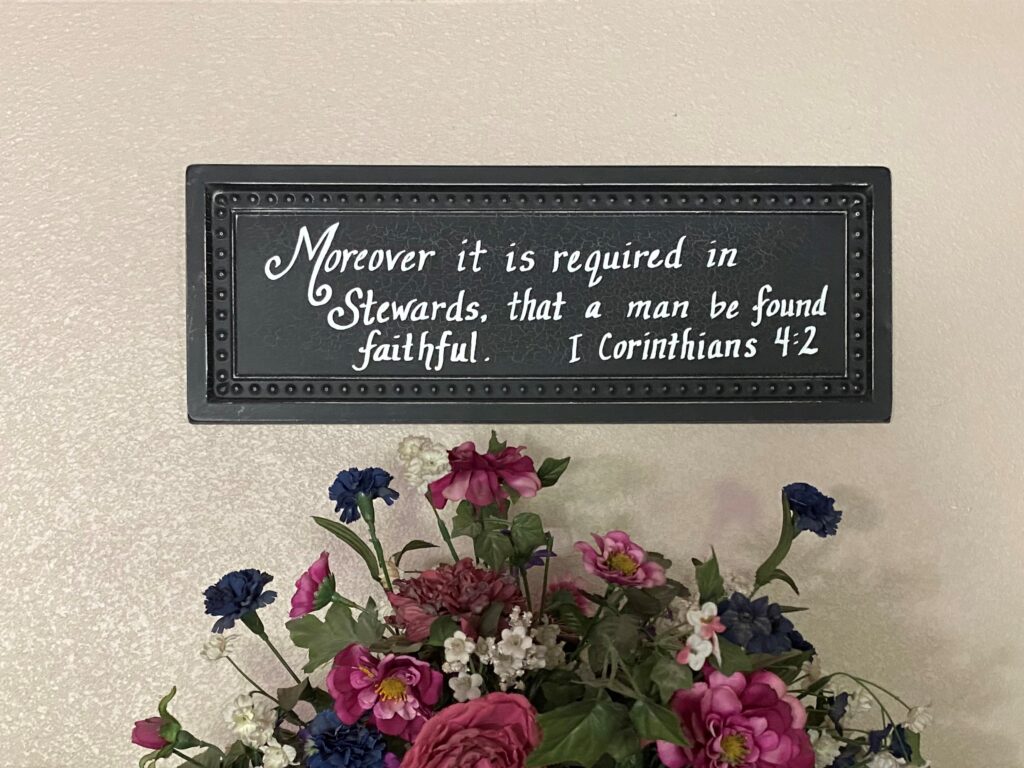 God has a special plan for each Christian's life. It is important to read God's Word (Bible), hearing from God, to learn what that plan is. It is then a choice to either follow God's plan for that life, or choose to disregard what God has planned. There are many examples of this in the Bible. Consider the following events.
Saul had been with the religious leaders when Stephen was stoned because he spoke of Jesus. In Acts chapter nine, we read that Saul went to Damascus to find anyone who followed Jesus so he could take them bound to Jerusalem. "And Saul, yet breathing out threatenings and slaughter against the disciples of the Lord, went …" (Acts 9:1). However, on the way, Saul saw the glory of the Lord revealed to him and was told to go to Damascus and wait. It is here that we are introduced to a "certain disciple at Damascus" whose name was Ananias. He lived in Damascus at this time. The Lord came to Ananias in a vision, and told him to go, "… and enquire in the house of Judas for one called Saul, of Tarsus: for, behold, he prayeth, 12. And hath seen in a vision a man named Ananias coming in, and putting his hand on him, that he might receive his sight" (Acts 9:11-12).
Once again God called one of his disciples (a Christian) to go and speak His Words to one particular individual (remember Philip who was sent to the Ethiopian Eunuch). Saul would be expecting Ananias to come see him. What did Ananias do? "13. Then Ananias answered, Lord, I have heard by many of this man, how much evil he hath done to thy saints at Jerusalem: 14. And here he hath authority from the chief priests to bind all that call on thy name" (Acts 9:13-14). Ananias was understandably afraid. He had heard of Saul. He also knew what Saul was doing to anyone who believed in Jesus. "But the Lord said unto him, Go thy way: for he is a chosen vessel unto me, to bear my name before the Gentiles, and kings, and the children of Israel" (Acts 9:15). Chosen vessel means "a person as the instrument of usefulness for someone." God had plans for Saul – just as He has plans for each person who belongs to Him. God told Ananias what His plans for Saul were – to tell the Gentiles, kings, and the children of Israel about Jesus.
Ananias was asked to do something very difficult. He had a choice to make. Obey God, or walk away in fear. "And Ananias went his way, and entered into the house; and putting his hands on him said, Brother Saul, the Lord, even Jesus, that appeared unto thee in the way as thou camest, hath sent me, that thou mightest receive thy sight …" (Acts 9:17). Recognize that Ananias trusted in God, more than he was afraid of Saul. Ananias believed the Lord when He said that Saul was a chosen vessel for God, and he greeted Saul as, "Brother Saul." What happened to Saul? He received his sight. This sight was more than physical sight. Read how Saul (later called Paul) described the lost condition of a life apart from Jesus and His Gospel message: "3. But if our gospel be hid, it is hid to them that are lost: 4. In whom the god of this world hath blinded the minds of them which believe not, lest the light of the glorious gospel of Christ, who is the image of God, should shine unto them. 5. For we preach not ourselves, but Christ Jesus the Lord; and ourselves your servants for Jesus' sake. 6. For God, who commanded the light to shine out of darkness, hath shined in our hearts, to give the light of the knowledge of the glory of God in the face of Jesus Christ" (2 Corinthians 4:3-6). Saul's (Paul's) eyes and his heart had been blinded. Yet he received the Truth of God's Word and believed. He not only believed in Jesus, but he became a servant who told many others about Christ Jesus the Lord. What did Saul do after he believed in Jesus and received his sight? "And straightway he preached Christ in the synagogues, that he is the Son of God" (Acts 9:20). There was a change that took place in Saul's heart that was pictured in his life when he was blinded and then received his sight. He had been brought out of the darkness into the "light of the knowledge of the glory of God in the face of Jesus Christ."
This is a great testimony to the faithfulness of Ananias. He chose to go speak to Saul – just as the Lord had told him to do. This event should encourage us never to be afraid to obey God's will. "1. Let a man so account of us, as of the ministers of Christ, and stewards of the mysteries of God. 2. Moreover it is required in stewards, that a man be found faithful" (1 Corinthians 4:1-2). The mystery of God is the introduction into the truths of the Gospel message. Never undervalue the importance of sharing the Gospel message with one individual who may be brought to Christ. Saul (Paul) was important to God.
Are you a faithful steward of the mysteries of God, willing to share the Gospel message when God asks?