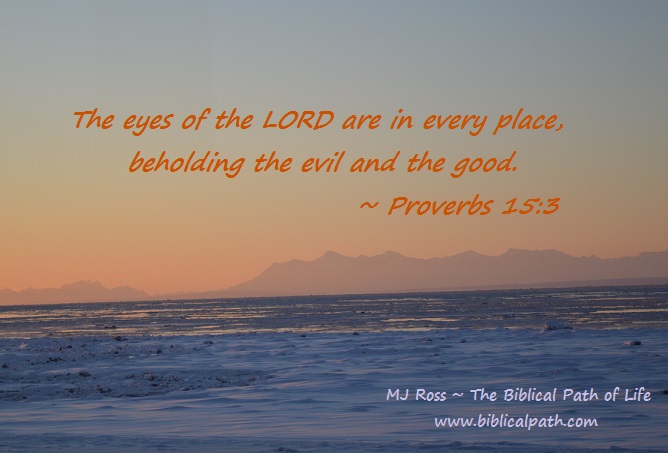 God sees all and knows all. He knows the thoughts of the heart. He hears the words spoken in secret. There is nothing hidden from God. This should be great words of encouragement to choose to do good. To choose to do right. To turn from evil. If we would remember and understand that God is ever present, ever watching – not to catch us doing something bad or wrong.  He wants to find someone in whom He can show Himself strong (see 2 Chronicles 16:9a where it says, "For the eyes of the LORD run to and fro throughout the whole earth, to shew himself strong in the behalf of them whose heart is perfect toward him.").Who wouldn't want God to show Himself strong in their life? But in the rest of that verse, we find that God had wanted to do this for King Asa, but because he had relied upon the king of Syria instead of the Lord his God, he lost the battle. Not only that, but God told him, "Herein thou hast done foolishly: therefore from henceforth thou shalt have wars" (2 Chronicles 16:9b). How awful would it be to choose an earthly king to help you instead of God? But imagine having God, Himself, tell you that you had done foolishly! And that you would have wars from then on in your kingdom!
Now relate that to the average Christian's life. Most Christians do not take into account that "The eyes of the Lord are in every place, beholding the evil and the good" (Proverbs 15:3). They might occasionally remember that they are to choose to do good and not evil. But they don't take into consideration that God wants Christians to choose to do good so that he can show Himself mighty in their life.
But we must remember something else very important. "For we must all appear before the judgment seat of Christ; that every one may receive the things done in his body, according to that he hath done, whether it be good or bad" (2 Corinthians 5:10). God already knows all and sees all, but one day we will stand before Him and give an accounting of all that we have done in this life "whether it be good or bad."
Knowing these things, what do you choose?
Will you choose good allowing God to show Himself mighty in your life?