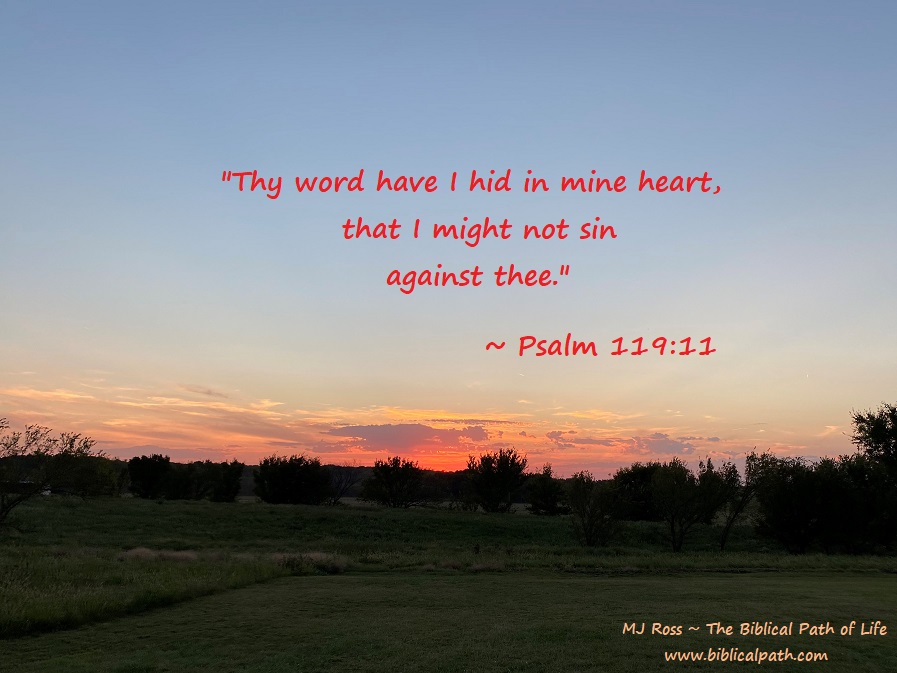 "Thy word have I hid in mine heart, that I might not sin against thee."
Psalm 119:11
Excerpt from The Biblical Path of Life – Year One Quarter Four, Lesson 6:
"Walk in the Law of the Lord (Psalm 119):
"Just as Moses reminded the people of God's Law as they prepared to enter the Promised Land, we must know God's Word as we walk in a Christian life. Then we can be as Psalm 119:1 tells us—"Blessed are the undefiled in the way, who walk in the law of the LORD."
"Notice these words: blessed means "happy"; undefiled means "blameless; upright in one's conduct." Who else have we studied that God called upright or perfect? Noah (see Genesis 6:9), Job (see Job 1:1), God told Abraham to be (see Genesis 17:1), God told His people to be (see Deuteronomy 18:13), as well as David (see 2 Samuel 22:24). These men (and God's people) were blessed when they walked with God (Job was even blessed doubly when he continued with God through his trials).
"Notice the first verse begins with blessed (which also means "happy"), referring to the one who walks in the "law of the Lord." This is completely contrary to what we learn in the world today. Many times, we are taught that "rules are impossible to follow, so why try?" How about "rules are only guidelines" or "rules were made to be broken"? Do these sound familiar? These sayings teach us something contrary to what God's Word teaches us. Psalm 119 teaches us that to be blessed (happy), we must walk in the law of the Lord.
"Read Psalm 119:2–11. These verses encourage us to seek God with our whole heart (119:2). We are to respect all of His commandments (119:6). Psalm 119:4 tells us we are to keep God's precepts (laws) diligently (meaning "wholly; speedily"). It does take work.
"How can we do this? Read Psalm 119:9–11. Listen, seek God with your whole heart, don't wander (stray from God's commands), and hide God's Word in your heart until it becomes a part of who you are. Be encouraged to read the rest of Psalm 119. Let it be an encouragement to those who truly seek to know and please God; to seek God's heart (remember David?). This principle must be our hearts' desire in order to walk with God. This Psalm was written by one who truly loved God and did not find His Law laborious. We should be happy to walk in God's Law."
After reading the previous excerpt, consider that the main theme of Psalm 119 is the Word of God. Notice the descriptions of God's Word given in the following verses: "1. Blessed are the undefiled in the way, who walk in the law of the LORD. 2. Blessed are they that keep his testimonies, and that seek him with the whole heart. 3. They also do no iniquity: they walk in his ways. 4. Thou hast commanded us to keep thy precepts diligently. 5. O that my ways were directed to keep thy statutes! 6. Then shall I not be ashamed, when I have respect unto all thy commandments. 7. I will praise thee with uprightness of heart, when I shall have learned thy righteous judgments. 8. I will keep thy statutes: O forsake me not utterly. 9. Wherewithal shall a young man cleanse his way? by taking heed thereto according to thy word" (Psalm 119:1-9). In reading these verses, one can consider the multifaceted characters of the Word of God. See the following list of words which are frequently used for God's Word throughout Psalm 119:
Law: (most frequently) means "teaching" whether it is the wise man who gently instructs a son, or God patiently teaching Israel. It is here we find just what God requires.
Testimonies: is as a witness emphasizing the content of God's Word.
Precepts: a mandate from a superior (God) regarding the duties of those under Him (mankind).
Statutes: "to engrave" which implies permanent and unchangeable regulations.
Commandments: this word assumes the authority of the commander and the inherent necessity of obeying the content of the charge given.
Judgments: ordinances; decisions God has made as a judge in order to make earthly behavior conform to heavenly standards.
Word: God's revelation; promises and revelations from the mouth of God.
Having recognizing the importance of these words, one should understand the significance of obeying God's Word (all of the Bible). "Then shall I not be ashamed, when I have respect unto all thy commandments" (Psalm 119:6). As we learn the importance of obeying God's Word and living it out in our lives, we can learn how to abide in Christ. "And now, little children, abide in him; that, when he shall appear, we may have confidence, and not be ashamed before him at his coming" (1 John 2:28).
It is at this point we should acknowledge the importance of the following verse: "Thy word have I hid in mine heart, that I might not sin against thee" (Psalm 119:11). God's Word is to become a part of who we are.
Have you chosen to hide God's Word in your heart until it becomes a part of who you are?