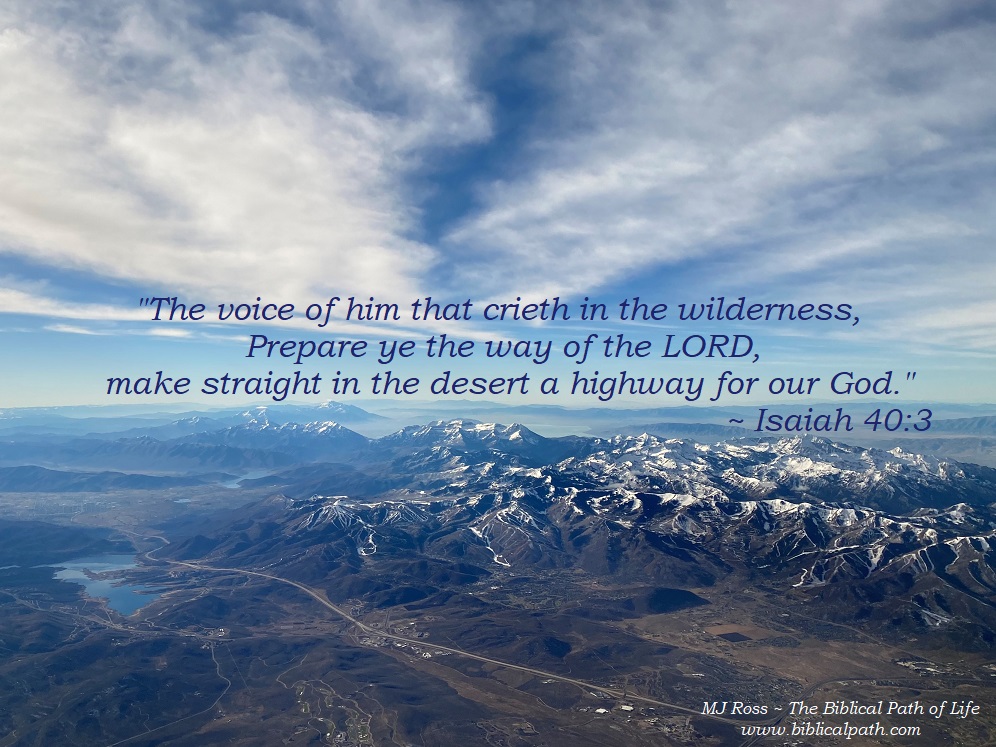 Key Verse
The voice of him that crieth in the wilderness, Prepare ye the way of the LORD, make straight in the desert a highway for our God.
—Isaiah 40:3

Key Verse Thought: After reading today's Key Verse, remember the baby John that we learned of in our last lesson. In this lesson, we will learn that he was the one Isaiah wrote about hundreds of years earlier: the voice of one crying in the wilderness. We will begin to understand that he was sent by God to do a special job – to prepare the way for Jesus.
Emphasis: God has a plan for each Christian's life. We may not understand exactly why God has us do something (remember John baptizing), but we are to obey anyway – just as John did. Moreover, we have Jesus as our example of how to defeat temptations – by knowing God's Word.
Lesson Summary: In our last lesson, we looked at the births of John and Jesus. God sent angels to tell about both of these special births. We also learned about Jesus' childhood. In this lesson, we will find out more about John that was born.
John grew up in the wilderness, and at about thirty years of age, he came out of that wilderness preaching, "Repent ye: for the kingdom of heaven is at hand" (Matthew 3:2).  His job was to prepare the way for the Promised One. Although John did not know who the Promised One was, God instructed him to baptize, and He would reveal that One to him. And John obeyed. He became known as "John the Baptist."  God revealed the Promised One to him with the Spirit of God in the form of a dove which lighted upon Jesus as he came up out of the water after baptism. Jesus, too, was about thirty years of age.  
Immediately, Jesus was driven into the wilderness where Satan tempted him with three specific temptations. Jesus defeated each of those temptations by quoting God's Word. When Satan left Jesus, angels ministered to Him. When John the Baptist saw Jesus again, He introduced Him to all as "the Lamb of God, which taketh away the sin of the world" (John 1:29). At this point, John's ministry started to decrease, and Jesus' ministry began.
Jesus went to Galilee where his fame was spread abroad. He then returned to his home town of Nazareth where He went to the synagogue. Once there, Jesus stood to read. He was given the book of Isaiah. He read the Scripture that was a prophecy of the Messiah who was to come. When Jesus finished reading, He declared that those words had been fulfilled in their ears – in other words, Jesus was that One promised. This angered the people, and they tried to kill Jesus. "From that time Jesus began to preach, and to say, Repent: for the kingdom of heaven is at hand" (Matthew 4:17).
Y3Q1 – Lesson 3 Questions
Y3Q1 – Lesson 3 Children's Worskheets
If you are teaching this to younger children, this is an idea of a craft to help them remember this lesson.