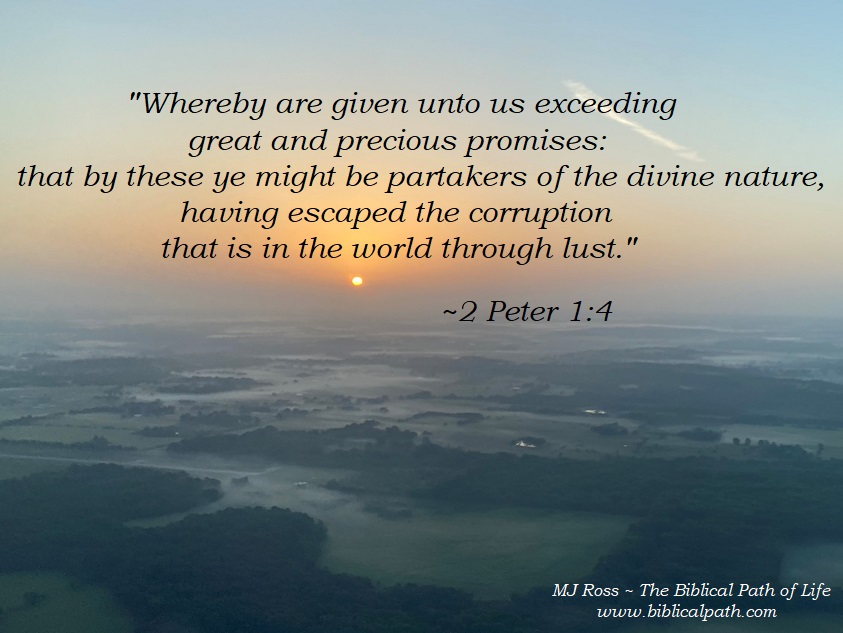 "Whereby are given unto us exceeding great and precious promises: that by these ye might be partakers of the divine nature, having escaped the corruption that is in the world through lust."
2 Peter 1:4
As Peter began this second letter, read how he introduced himself. "Simon Peter, a servant and an apostle of Jesus Christ, to them that have obtained like precious faith with us through the righteousness of God and our Saviour Jesus Christ" (2 Peter 1:1). Also, take note to whom this letter is written: Christians.
Like precious means "equally precious or valuable."
Faith means "appropriating what God in Christ has for man, resulting in the transformation of man's character and way of life (a.k.a. Christian faith, Christian doctrine, gospel); meaning the doctrines received and believed; all that Christianity stands for." 
All who become a Christian are saved in exactly the same way – only through faith in Jesus. However, with that faith is to come a transformation of one's character and way of life. This is what Peter was calling to mind in his readers. He was affiliating himself with them in like faith, character, and lifestyle. This laid the foundation for what he wanted to teach them.
God gives the power to live a Christian life. "According as his divine power hath given unto us all things that pertain unto life and godliness, through the knowledge of him that hath called us to glory and virtue" (2 Peter 1:3). According as means "implying quality, character, circumstances as known in any personal thing; something which is a matter of belief or opinion." By this, we understand that Peter is talking about something Christians have, or they should know they have: that is, God's divine power that has given us all things we need for the Christian life ("all things that pertain unto life and godliness"). We find the "knowledge of him" in the Bible.
Understand the two things into which God called Christians:
Glory means "spoken of that which excites admiration to which honor is ascribed as in the divine perfections as manifested in the power of God."
Virtue means "superiority or being pleasing to God; moral excellence; perfection; goodness of action."
Recognize that God has called Christians, and they are to be excited about the prospect of being able to become more like Jesus, which is pleasing to God. Moreover, Peter called to mind God's promises to His people. "Whereby are given unto us exceeding great and precious promises: that by these ye might be partakers of the divine nature, having escaped the corruption that is in the world through lust" (2 Peter 1:4). Christians are to "be partakers" because of these promises. God gave many, but think of two specific promises: His Son, Jesus, who was promised from the beginning of time, and the Holy Spirit, the Comforter, who would comfort and teach Christians until Jesus returns (see John 14:26). Remember what we should have learned in Second Corinthians. "Having therefore these promises, dearly beloved, let us cleanse ourselves from all filthiness of the flesh and spirit, perfecting holiness in the fear of God" (2 Corinthians 7:1). (See also John 14:21-23). The message has not changed. Christians are compelled to become more like Jesus – not like the world.
As Peter continued, he wanted them to understand that once becoming a Christian, one was not finished – for there is a growing process that must take place. Recall to memory what we should have already learned about Christianity: Paul compared it to a race. See the following to remember this. "24. Know ye not that they which run in a race run all, but one receiveth the prize? So run, that ye may obtain. 25. And every man that striveth for the mastery is temperate in all things. Now they do it to obtain a corruptible crown; but we an incorruptible. 26. I therefore so run, not as uncertainly; so fight I, not as one that beateth the air: 27. But I keep under my body, and bring it into subjection: lest that by any means, when I have preached to others, I myself should be a castaway" (1 Corinthians 9:24-27). Notice that it implies a continual moving forward, striving for the goal at the end. With that moving forward, Paul said he kept his body in subjection. He understood the importance of keeping his life true to the Word of God so that he would never lose that Christian testimony. However, he also understood it took much work, and he knew it was a continual process of moving forward in his relationship with Jesus. See the following to remember this. "12. Not as though I had already attained, either were already perfect: but I follow after, if that I may apprehend that for which also I am apprehended of Christ Jesus. 13. Brethren, I count not myself to have apprehended: but this one thing I do, forgetting those things which are behind, and reaching forth unto those things which are before, 14. I press toward the mark for the prize of the high calling of God in Christ Jesus" (Philippians 3:12-14). He continually moved forward in his growth in Christ. Have you ever heard the saying that "if you are not moving forward, you are moving backward"? It is very true. If Christians do not continually read their Bible, pray, and live according to God's Word, they digress in that growing process, becoming ineffective Christians.
Peter and Paul both recognized the importance of Christians continually striving to become more like Christ.
Have you made a commitment to strive to become more like Christ?