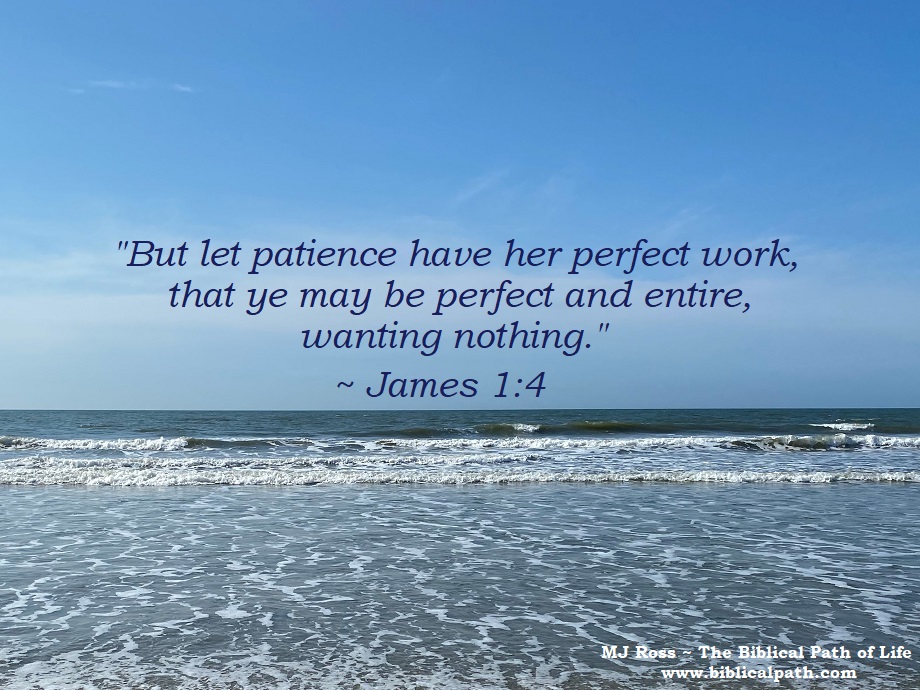 Believers are those who chose to trust in Jesus by faith. In the book of James, we learn what must be done next. "2. My brethren, count it all joy when ye fall into divers temptations; 3. Knowing this, that the trying of your faith worketh patience" (James 1:2-3). Temptations in this verse are not quite what we may think they are.
Temptations means "trials; a state of trial in which God brings His people through adversity and affliction in order to encourage and prove their faith and confidence in Him."
Trying means "approved; tried; the means of proving; a criterion or test by which anything is proved or tried; as in faith by afflictions."
Worketh means "to work out; bring about; accomplish; to carry out a task until it is finished; to effect; to produce."
It is hard to think of trying times as being considered joyful. Nevertheless, James wrote to encourage Christians to understand that now that they had faith in Jesus, that faith must be tried: put to the test. Once that faith is put to the test having been proved, that Christian will gain, or have, patience. Patience means "endurance; perseverance or constancy under suffering in faith and duty." This patience refers to the quality that does not surrender to circumstances or succumb to trials. How many times have we learned that we are to "stand fast"? "Therefore, brethren, stand fast, and hold the traditions which ye have been taught, whether by word, or our epistle" (2 Thessalonians 2:15). (See also: 1 Corinthians 16:13; Galatians 5:1; Philippians 1:27; Philippians 4:1; 1Thessalonians 3:8; etc.) Patience is to be associated with hope ("Remembering without ceasing your work of faith, and labour of love, and patience of hope in our Lord Jesus Christ, in the sight of God and our Father" 1 Thessalonians 1:3). Christians are encouraged to understand that with faith comes trying times – but Christians are to persevere, consistently, with patience by standing fast. See what patience gives Believers. "But let patience have her perfect work, that ye may be perfect and entire, wanting nothing" (James 1:4). Consider these times of trying as building character so that God can use that Christian for Him!
One cannot help but think of Moses. He was forty years old when he went out to try to help his people in Egypt who had become slaves. He ended up killing an Egyptian who was smiting a Hebrew (see Exodus 3:11-15). After Moses slew that Egyptian, he buried him in the sand. When Pharaoh heard, he wanted to kill Moses. So, Moses fled to Midian. It was forty years later when God called Moses out of the burning bush (that did not burn) to go back to Egypt to deliver God's people the right way (see Exodus chapter 3). Moses was eighty years old when he went to face Pharaoh to deliver God's people from slavery. Yet God was able to use Moses.
James helped Christians understand what to do when they were faced with those trying times. "5. If any of you lack wisdom, let him ask of God, that giveth to all men liberally, and upbraideth not; and it shall be given him. 6. But let him ask in faith, nothing wavering. For he that wavereth is like a wave of the sea driven with the wind and tossed" (James 1:5-6). Wisdom means "in respect to divine things: deep knowledge; natural and moral insight; represented as a divine gift, and including the idea of practical application." If a Christian does not know how to live right, or what to do in a specific situation, all one must do is to ask God – for He will show Christians how to live and what to do through His Word, the Bible. However, one must remember that after asking God for wisdom in a situation, and then He tells that one what to do (according to God's Word), it should be done: "nothing wavering." Wavering means "to separate oneself from; to contend with; to be in strife with oneself; to doubt; hesitate; waver." Do not change your mind, or talk yourself out of doing what is right. Even when something does not seem easy to do, a Christian's life should not be lived as a ship on a stormy sea – tossed about from highs to lows. Instead, as we have learned, a Christian is to stand fast, "nothing wavering," faithful. When one continually shifts from high to low, understand the following: that one cannot expect God to answer their prayer. "For let not that man think that he shall receive any thing of the Lord" (James 1:7). Read the following warning of a life lived like that. "A double minded man is unstable in all his ways" (James 1:8). Double minded means "doubtful; a person who suffers from divided loyalties – such as one who wishes to maintain a religious confession, desiring the presence of God in his life, but on the other hand, he loves the ways of the world and prefers to live according to its mores and ethics." When a Christian constantly wavers, or is "double minded," never fully committing to the Christian life, they will be unstable in everything. We are not to love the ways of the world. We are to follow Christ and His Word.
Have you chosen to endure trials, gaining patience, enabling you to live a life that does not waver so God can use you?