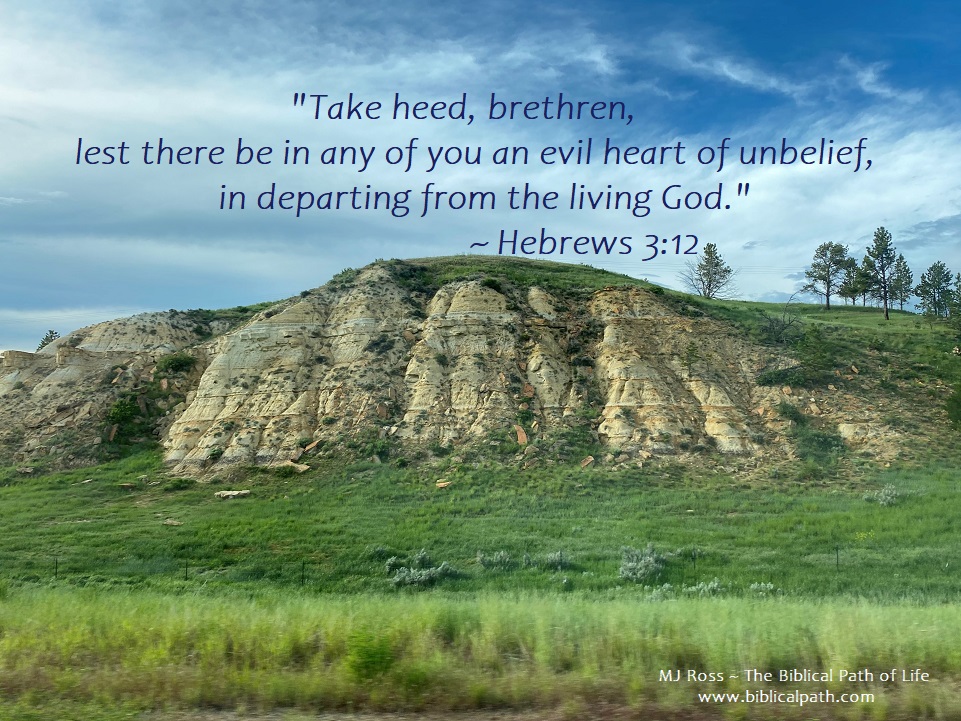 Before Jesus went to the cross, he left some encouraging words for his followers. He promised that he would send the Comforter (also called the Holy Spirit or Holy Ghost) to them. Read the following to understand the job of the Comforter (Holy Spirit). "7. Nevertheless I tell you the truth; It is expedient for you that I go away: for if I go not away, the Comforter will not come unto you; but if I depart, I will send him unto you. 8. And when he is come, he will reprove the world of sin, and of righteousness, and of judgment: 9. Of sin, because they believe not on me; 10. Of righteousness, because I go to my Father, and ye see me no more; 11. Of judgment, because the prince of this world is judged" (John 16:7-11). This is an important job. When one is faced with sin, it is the Comforter (the Holy Spirit) that convicts (reproves) the heart of sin. It is then up to the individual as to what they do with that conviction. Ideally, when one feels the conviction of sin, there is a turning away from that sin to Jesus. This is repentance. This conviction of sin comes often to Believers (Christians). However, there is an initial recognition of sin for each individual. It is then that the recognition of one's condition of sin is revealed, recognizing that there is a separation between that sinner and a perfect and Holy God. This is referred to as a call (or "draw") to salvation only found in Jesus. Read how Jesus described this event: "No man can come to me, except the Father which hath sent me draw him: and I will raise him up at the last day" (John 6:44).
Read the following issue for all who hear the offer of salvation in Christ. "4. For it is impossible for those who were once enlightened, and have tasted of the heavenly gift, and were made partakers of the Holy Ghost, 5. And have tasted the good word of God, and the powers of the world to come, 6. If they shall fall away, to renew them again unto repentance; seeing they crucify to themselves the Son of God afresh, and put him to an open shame" (Hebrews 6:4-6). Once a person has heard the conviction of sin from the Holy Spirit ("once enlightened, and have tasted of the heavenly gift"), there is a choice that must be made. One choice is to either act upon that conviction ("For all have sinned, and come short of the glory of God" Romans 3:23), confessing sin and trusting in Jesus to take that sin away, thereby becoming a Christian ("But God commendeth his love toward us, in that, while we were yet sinners, Christ died for us" Romans 5:8). The other choice is to ignore that conviction and continue in one's sin. If one chooses to ignore the conviction of God's Spirit, there may not be another chance to repent. We have a vivid example from the Old Testament that most are quite familiar with. Remember Pharaoh and the ten plagues (see Exodus chapters 7-14). Pharaoh did not acknowledge God. "And Pharaoh said, Who is the LORD, that I should obey his voice to let Israel go? I know not the LORD, neither will I let Israel go" (Exodus 5:2). God then sent ten plagues. For the first five plagues, we read that Pharaoh hardened his heart. However, for the final five plagues, God hardened Pharaoh's heart. There arrived a point that God no longer allowed Pharaoh the privilege of choosing to turn to God and His will. Pharaoh had lost his opportunity, and God removed the opportunity. The same can happen to one who hears the conviction from God's Spirit upon the heart today. If one chooses to reject God and His will (choosing their own will, continuing in sin), there is no guarantee that God will provide another opportunity for repentance. One may just spurn away their day of grace, which would render that one separated from God – forever. Remember Esau: "16. Lest there be any fornicator, or profane person, as Esau, who for one morsel of meat sold his birthright. 17. For ye know how that afterward, when he would have inherited the blessing, he was rejected: for he found no place of repentance, though he sought it carefully with tears" (Hebrews 12:16-17). He waited too long.
By one's attitude toward Christ and His gift, that one reveals the true condition of that heart and soul. Read the following warning and invitation: "12. Take heed, brethren, lest there be in any of you an evil heart of unbelief, in departing from the living God. 13. But exhort one another daily, while it is called To day; lest any of you be hardened through the deceitfulness of sin" (Hebrews 3:12-13).
Have you responded to the conviction of sin, repenting and turning to Jesus Christ while it is today?