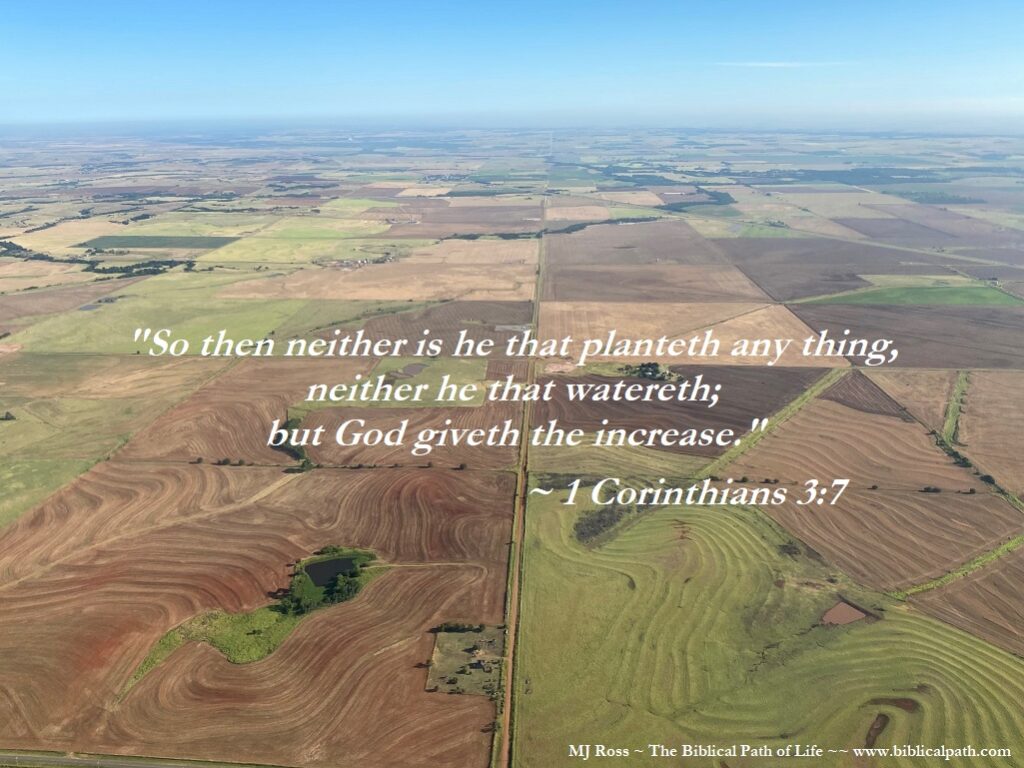 Paul, the Apostle, understood the importance of the message he was to deliver: Jesus, God's Son, lived a perfect life, died on the cross paying for man's sin, and rose again the third day. This was a message the world did not, and could not understand. It is a mystery to them. "7. But we speak the wisdom of God in a mystery, even the hidden wisdom, which God ordained before the world unto our glory: 8. Which none of the princes of this world knew: for had they known it, they would not have crucified the Lord of glory" (1 Corinthians 2:7-8). If the people in Jesus' time had understood that Jesus had come to deliver them from sin, they never would have crucified Him. Paul wanted Believers to understand that their job was simply to preach this Gospel message, and God would reveal Himself to the individual.
If God's church would operate under this system, simply preaching and teaching Jesus, see what is promised. "But as it is written, Eye hath not seen, nor ear heard, neither have entered into the heart of man, the things which God hath prepared for them that love him" (1 Corinthians 2:9). If God's people (Christians) would simply present the Gospel message, God would reveal Himself; and Christians could never even imagine what He will do. Remember when Peter first preached Jesus on the day of Pentecost – three thousand were saved on that day (see Acts 2:41). In addition, just a few days later, he preached again and five thousand were saved (see Acts 4:4). In every city Paul entered, he preached Jesus, and many people believed.
Why did God want to reveal such mighty things to us? "12. Now we have received, not the spirit of the world, but the spirit which is of God; that we might know the things that are freely given to us of God. 13. Which things also we speak, not in the words which man's wisdom teacheth, but which the Holy Ghost teacheth; comparing spiritual things with spiritual. 14. But the natural man receiveth not the things of the Spirit of God: for they are foolishness unto him: neither can he know them, because they are spiritually discerned" (1 Corinthians 2:12-14). Remember that once a person is saved (becomes a Christian) that they have a new nature (God's Spirit). God gave His Spirit, "that we might know the things that are freely given to us of God." God will then teach each Christian exactly how to live a life pleasing to Him (as one reads God's Word, and listens to godly teaching). People, who do not know Jesus, do not understand why Christians want to go to church, or revival, or even read the Bible, as they learn how to live a Christian life – for "they are foolishness unto him." Non-Christians cannot understand these things "because they are spiritually discerned." Christians have a different nature.
Paul understood that the Believers in the church at Corinth had not grown in maturity in Christ as they should have, so he reprimanded them. "1. And I, brethren, could not speak unto you as unto spiritual, but as unto carnal, even as unto babes in Christ. 2. I have fed you with milk, and not with meat: for hitherto ye were not able to bear it, neither yet now are ye able. 3. For ye are yet carnal…" (1 Corinthians 3:1-3). Because they had not yet learned how to live a Christian life, they were still "carnal" (carnal means "weakness; frailty; of persons being worldly").
Paul then explained to them the importance of different teachers and workers. "5. Who then is Paul, and who is Apollos, but ministers by whom ye believed, even as the Lord gave to every man? 6. I have planted, Apollos watered; but God gave the increase. 7. So then neither is he that planteth any thing, neither he that watereth; but God that giveth the increase" (1 Corinthians 3:5-7). Some workers plant the seed (plant means "to be the first to preach the gospel in a place"), another may water (watered means "to water, irrigate; used metaphorically of instruction"), but only God gives the increase (gave the increase means "to grow, increase, or add something"). Only God saves people.
"8. Now he that planteth and he that watereth are one: and every man shall receive his own reward according to his own labour … 10. According to the grace of God which is given unto me, as a wise masterbuilder, I have laid the foundation, and another buildeth thereon. But let every man take heed how he buildeth thereupon. 11. For other foundation can no man lay than that is laid, which is Jesus Christ" (1 Corinthians 3:8-11). Each Christian is supposed to plant and water – for we are all to tell others about Jesus. We are to be a "wise masterbuilder" – just like Paul was. Wise masterbuilder means "a skillful, expert workman or builder; an architect." But most importantly, the foundation must be Jesus (foundation means "the elementary doctrine and instruction; fundamental doctrine or principle – which is Christ"). The Gospel message of Jesus must be taught first in order for anyone to be saved.
Do you plant or water, sharing the Gospel message of Jesus to others?