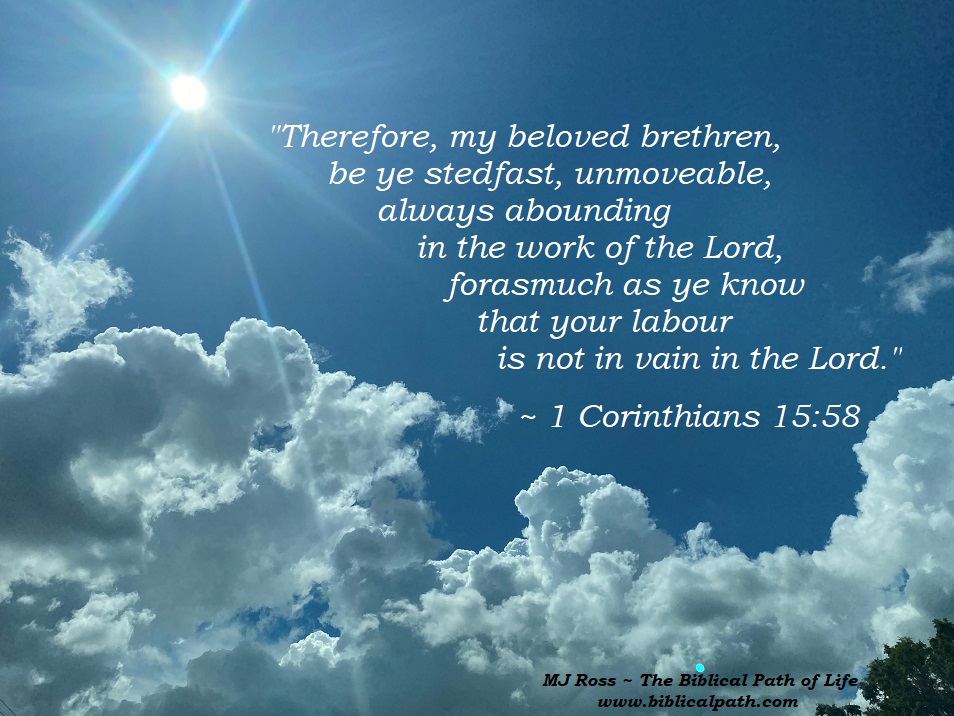 Key Verse
Therefore, my beloved brethren, be ye stedfast, unmoveable, always abounding in the work of the Lord, forasmuch as ye know that your labour is not in vain in the Lord.
—1 Corinthians 15:58

Key Verse Thought: Read the Key Verse. We are to understand what it means to be "stedfast, unmoveable, always abounding in the work of the Lord." That means: not changing or moving, but being more abundant or distinguished than somebody else in reference to doing something. We are to try to be the best Christian living for Jesus than anyone else around us – for we know that even though it may be very difficult (labour), we also know that our life will not be fruitless in God's eyes.

Emphasis: We are to remain true to the task God places before us, no matter how difficult it may seem – even if people ignore us and reject God's Word (just as they did to Ezekiel), when we tell others about Jesus.
Lesson Summary: God called Ezekiel again, to be a watchman to Israel. He was to continue warning the people – especially the children of God's people. The children would be the ones who would eventually return to Jerusalem. God warned Ezekiel that he would be accountable to God if he was not faithful to speak the Words God gave him to speak.
While Ezekiel was warning God's people, a messenger came with the news that Jerusalem had been smitten (defeated; destroyed). Ezekiel proceeded to remind them why Jerusalem had been destroyed. Although the people listened to the message, they did not adhere to the teachings.
Ezekiel had to remind the people why they lost their homeland and their beloved city, Jerusalem. It was because they forsook God and worshiped idols instead. Nevertheless, after this reminder, they were encouraged with the words that God would one day restore their homeland to them. After these words, God gave Ezekiel an unusual visual to help him understand what God would do for His people one day. God took Ezekiel to a valley full of dry bones and told him to preach the Word of the Lord to them. When he did, the bones were rejoined and skin covered them again. After God breathed life into them, those dead bones lived. It was a picture of the dead, desolate nation Israel would be when God would one day restore them.
God would join the divided kingdom as one nation with one king, they would reject idolatry once and for all and God would be their God, and God then gave the promise of Jesus.  Jesus would be the king over God's people, the one shepherd, and he would be their prince – forever.
Y2Q4 – Lesson 2 Children's Worksheets
If you are teaching this lesson to younger children, the following is a craft idea to help them remember this lesson: