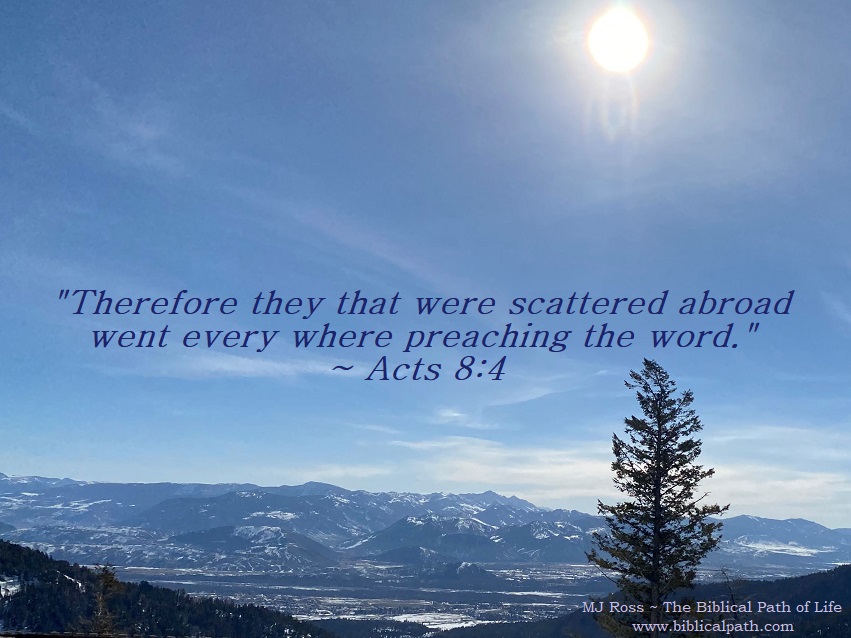 Stephen preached Jesus from the Old Testament to the religious leaders, but instead of receiving the truths he taught, they rejected those Words and killed him. He was the first person who was killed because he believed in, and preached, Jesus. It was at the time of his death that we were also introduced to one of the religious men present at Stephen's death – a young man named Saul.
"And Saul was consenting unto his death. And at that time there was a great persecution against the church which was at Jerusalem; and they were all scattered abroad throughout the regions of Judaea and Samaria, except the apostles" (Acts 8:1). Recognize that this incident was the catalyst for a great persecution against the church. After learning of Stephen's death, people became afraid. Because of this fear, many of the people scattered abroad. Did you notice to whom the persecution was initially directed? The church. And they scattered abroad. The people of the church who scattered were new Believers. They had just believed upon Jesus a short time before, and they were just beginning to learn and grow in this new life. These new Believers were encouraged to continue, "stedfastly in the apostles' doctrine and fellowship, and in breaking of bread, and in prayers" (Acts 2:42). When Stephen was killed, many fled Jerusalem. What did the Apostles do? They stayed in Jerusalem. It would be later that the persecution would come directly to them. They stayed in Jerusalem, available, where the people could find them.
Some people remained in Jerusalem, mourning the death of Stephen. Because "Saul was consenting unto his death," read his response to this new "church" that was being formulated. "As for Saul, he made havock of the church, entering into every house, and haling men and women committed them to prison" (Acts 8:3). We read that Saul "made havock" of the church. Made havock means "destruction; to ravage, waste; to disgrace as by insult; treat with indignity; injure or destroy." Saul entered into houses and took men and women to prison – all because they belonged to the church.
There is something very important that Christians today can learn from this event. Who is the enemy of a Christian? "Be sober, be vigilant; because your adversary the devil, as a roaring lion, walketh about, seeking whom he may devour" (1 Peter 5:8). The devil (Satan) is the enemy. We can read from this verse that he attacks and wants to destroy Christians. Our adversary, the devil, will attack all Christians. And he uses people to do his job. Remember that in the early establishment of the church, the first persecution was directed at one (Stephen) who was vocal, teaching Jesus aloud to the religious leaders. Stephen was physically silenced. Next, the persecution was against the church. This was all new. They had just experienced the most wonderful event in their lives. They had believed in Jesus, who had died for their sin paying their debt. They had experienced what we can now read in the following verse: "Therefore if any man be in Christ, he is a new creature: old things are passed away; behold, all things are become new" (2 Corinthians 5:17). I am sure that they had not expected this great persecution! We can read of a warning that was later written to the leaders of the church: "For I know this, that after my departing shall grievous wolves enter in among you, not sparing the flock" (Acts 20:29).
It is easy to see an event, like the death of Stephen, as tragic. And it was! He was a great man of God who did much good for the church in his short ministry. In addition, the persecution of the church was a terrible event, for people were imprisoned because they believed in Jesus. However, in hindsight, we can see much good that came from the martyrdom of Stephen and the persecution of the early church. The church that was in Jerusalem began to scatter abroad – throughout Judea and Samaria. Do you remember what Jesus wanted the Believers to do? "… And ye shall be witnesses unto me both in Jerusalem, and in all Judaea, and in Samaria, and unto the uttermost part of the earth" (Acts 1:8b). Thus far, the church was growing in Jerusalem. Once this started, the people began to scatter. "Therefore they that were scattered abroad went every where preaching the word" (Acts 8:4). As they scattered abroad, they began to spread the Gospel message everywhere, all because of the persecution that came after the tragic death of Stephen. Where did they go? The persecuted church "… all scattered abroad throughout the regions of Judaea and Samaria …" (Acts 8:1b). Now that persecution had begun, God's Word was spreading specifically into the areas into which God had told His people to spread the Gospel message.
Read some encouraging Words that Christians need to understand if, or when, we face persecution: "10. Therefore I endure all things for the elect's sakes, that they may also obtain the salvation which is in Christ Jesus with eternal glory. 11. It is a faithful saying: For if we be dead with him, we shall also live with him: 12. If we suffer, we shall also reign with him: if we deny him, he also will deny us" (2 Timothy 2:9-12). Did you notice why Christians are to understand why we must endure troubles and sufferings? So that people could "obtain the salvation which is in Christ Jesus."
Do you live a Christian life enduring, so others may obtain the salvation, which is in Christ Jesus?