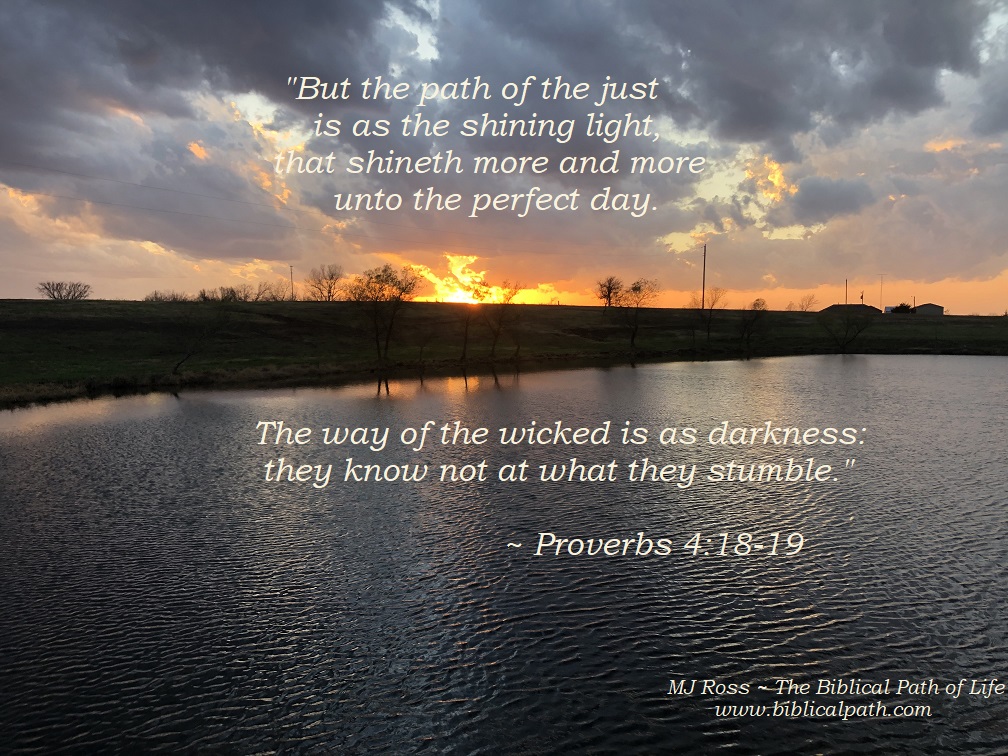 Everyone understands the difference between light and dark. They are opposites. In one, you can see clearly, in the other you cannot. In the darkness, much can be hidden and unseen. Sometimes we think of the scary things – seen or unseen – in the darkness. See what King Solomon recorded for us to read: "18. But the path of the just is as the shining light, that shineth more and more unto the perfect day. 19. The way of the wicked is as darkness: they know not at what they stumble" (Proverbs 4:18-19). These are two separate ways. They are in contrast one with the other. The way of light, shines more and more. This helps one understand that the path becomes brighter and brighter, where one is able to see and comprehend what is before them better and better.
What is this light that shines? See what Jesus said in the book of John. "Then spake Jesus again unto them, saying, I am the light of the world: he that followeth me shall not walk in darkness, but shall have the light of life" (John 8:12). Jesus is The Light. Those who believe in Him (Christians) are to walk in that light, not in darkness. Understand why Jesus came: "I am come a light into the world, that whosoever believeth on me should not abide in darkness" (John 12:46). There is a choice: light or darkness. For those who do not want to walk in darkness, they should choose Jesus, the Light of the world.
So why doesn't everyone choose light, believing in Jesus? When people reject God and His commandments, the land fills with "darkness." See what Jesus said, "And this is the condemnation, that light is come into the world, and men loved darkness rather than light, because their deeds were evil" (John 3:19). There are those who prefer the deeds one finds in the darkness – evil deeds. Those evil deeds are sin that separates people from God. Read why Jesus told Paul to go preach the Gospel message: "To open their eyes, and to turn them from darkness to light, and from the power of Satan unto God, that they may receive forgiveness of sins, and inheritance among them which are sanctified by faith that is in me" (Acts 26:18). One can understand that those who choose evil deeds, walking in darkness, are under the power of Satan.
Remember that Jesus came to set people free from that darkness to walk as His dear children in Him (the Light).What can we learn about those who choose to hear the Gospel message of Jesus, turning from those evil deeds done in darkness (sin)? "For ye were sometimes darkness, but now are ye light in the Lord: walk as children of light" (Ephesians 5:8). Those who choose Him have the light of Jesus in their hearts and lives. Christians are taught to walk as children of light for a Christian cannot walk in "darkness" (sin). "If we say that we have fellowship with him, and walk in darkness, we lie, and do not the truth" (1 John 1:6).
As we continue to read, we find more instruction that Christians are to heed. "11. And have no fellowship with the unfruitful works of darkness, but rather reprove them. 12. For it is a shame even to speak of those things which are done of them in secret" (Ephesians 5:11-12). Do not be one who has the Light of Jesus in your heart and mind, yet continues to walk with those who chose to remain in darkness. Instead, we are to tell them about Jesus and encourage them to choose the Light of life. As Christians (God's people), we are to be different – not like the "world" around us "14. Wherefore he saith, Awake thou that sleepest, and arise from the dead, and Christ shall give thee light. 15. See then that ye walk circumspectly, not as fools, but as wise, 16. Redeeming the time, because the days are evil. 17 Wherefore be ye not unwise, but understanding what the will of the Lord is" (Ephesians 5:14-17). Wake up! For Jesus will give you light (illuminating your path – remember Psalm 119:105: "Thy word is a lamp unto my feet, and a light unto my path"), then walk cautiously as wise, and understand what the Lord has planned for you.
Do you walk in darkness, not knowing at what you stumble?
Or, have you chosen the path of the just that is as the shining light?