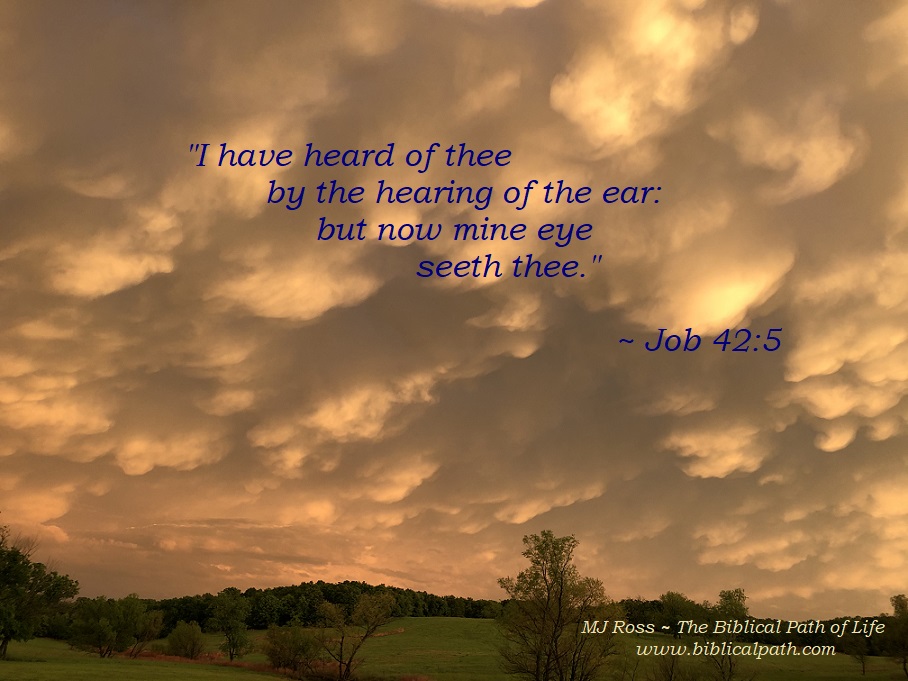 God created all things. We can understand that He created all things, including us, for his pleasure. "Thou art worthy, O Lord, to receive glory and honour and power: for thou hast created all things, and for thy pleasure they are and were created" (Revelation 4:11). But have you ever taken time to hear about God? How about trying to see Him?
What does it really mean when people say they have "seen" God? Can anyone really "see" God? Some things you see without physical eyes. This "seeing" is referring to the movement of God in one's own personal life. A few books in the Old Testament reveal men wanting to know God better – in a personal way. Job, King David (in the book of Psalms), and King Solomon (in the books of Proverbs, Ecclesiastes and Song of Solomon) were such men. We also see God move in the hearts and lives of these men. There is a great picture of this in the life of Job.
Job opens with a behind-the-scenes event that Job never knew about (a very important fact for us to consider!). Satan presents himself before the throne of God. Remember; God knows all, see: "… for the LORD searcheth all hearts, and understandeth all the imaginations of the thoughts …" (1 Chronicles 28:9b). Yet we find that He asks Satan if he has set his heart upon Job. Read how Job is described: "… a perfect and an upright man, one that feareth God, and escheweth (turns away from) evil" (Job 1:8). Satan wants to "steal, kill, and destroy" (John 10:10). This fact is vividly portrayed in the book of Job. Job lost all of his wealth, his ten children, and eventually even his health. Yet through all of the adversity that Job endured, he never cursed God. He sought his own heart, and he acknowledged God and who He is. When he did not understand what it was that was happening to him, he appealed to God.
And God answered him.
Although Job never fully understood what happened, or why, we can read about it for ourselves in the book of Job. Job's faith and trust in things of which he did not know is rather amazing. Yet through it all, Job's faith and trust in God grew. Even knowing how God described Job at the beginning of the book, read what Job recognized about his own condition in the presence of God. "5. I have heard of thee by the hearing of the ear: but now mine eye seeth thee. 6. Wherefore I abhor myself, and repent in dust and ashes" (Job 42:5-6).
These events give us much insight, if only we will receive it. Although Job never knew that God allowed Satan to cause these events in his life, we find that he trusted God. There is an important thing that we should remember – God knew Job. He knew that Job could endure all of those things and even grow in his faith and trust in Him. When we are faced with things, we should understand that God won't allow anything to happen to us that He doesn't already know we can handle. If we just will! "There hath no temptation taken you but such as is common to man: but God is faithful, who will not suffer you to be tempted above that ye are able; but will with the temptation also make a way to escape, that ye may be able to bear it" (1 Corinthians 10:13). Temptation here means "putting to proof (by experiment [of good], or experience [of evil]; to try." And the words to be tempted here mean "to test." But my favorite part: the words God is faithful. The word faithful here means "trustworthy; faithful; true." I can trust God because He is faithful through it all! Job understood this before it was even written.
Have you trusted God to be faithful during your trying times?
Posted also at Lighthouse Gospel Beacon