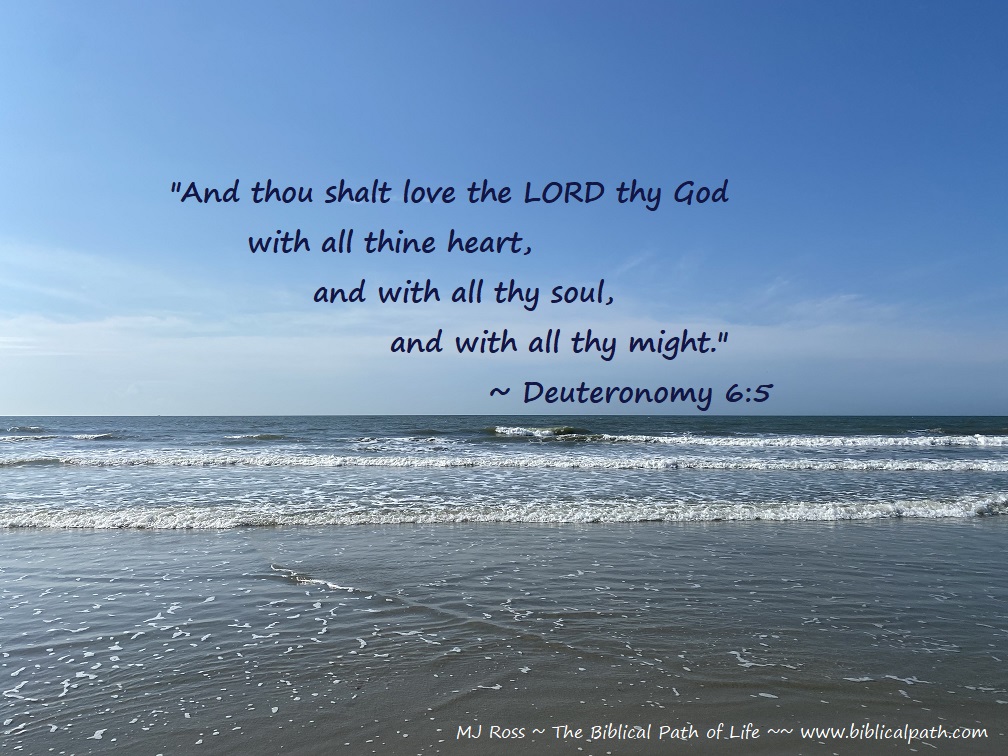 "And thou shalt love the LORD thy God with all thine heart, and with all thy soul, and with all thy might."
Deuteronomy 6:5
One shows love for God by obeying His commands. Moses had just reminded the Israelites of God's Law as they were preparing to enter into the Promised Land. He instructed them to obey God's Law. "That thou mightest fear the LORD thy God, to keep all his statutes and his commandments, which I command thee, thou, and thy son, and thy son's son, all the days of thy life; and that thy days may be prolonged" (Deuteronomy 6:2). God was bringing them into the land that had been promised to Abraham, a land filled with many false gods. "And thou shalt love the LORD thy God with all thine heart, and with all thy soul, and with all thy might" (Deuteronomy 6:5). They had previously been warned again to not worship those false gods (see Deuteronomy 4:14-31). After remembering this, read what else they were to do. "And thou shalt teach them diligently unto thy children, and shalt talk of them when thou sittest in thine house, and when thou walkest by the way, and when thou liest down, and when thou risest up" (Deuteronomy 6:7). First, these words of God must be in the parents' hearts. It would be then that they would be able to teach their children when they sit or when they walk. It is important to teach children the principles found in God's Word in everyday life situations when they occur. In the morning when they wake, ready to start a new day, with questions in their hearts and minds. As they get ready for bed, and have had challenging circumstances from the day. The Bible says for parents to teach their children the things of God diligently! We can clearly read in these verses the importance of a parent teaching their child the ways of God – to "love the LORD thy God with all thine heart, and with all thy soul, and with all thy might." Take note that teaching children the ways of God is important!!
Joshua led the people after Moses died. Joshua had learned much about the importance of loving the Lord and obeying His commands. At the end of his life, before he died, Joshua left a word that has been remembered throughout the ages: "And if it seem evil unto you to serve the LORD, choose you this day whom ye will serve; … but as for me and my house, we will serve the LORD" (Joshua 24:15). He understood the importance not only of knowing to love and obey the Lord himself, but to teach these things to his children. The whole family, together, would serve the Lord. By teaching this to children, they would know how to live a life pleasing to God in this world. If you read the book of Judges, the book that immediately follows this statement by Joshua, you learn what kind of a nation they became. All because the people forgot God and failed to teach God's commandments to their children. This is to be a warning to us today!
Remember also that King David shared things of God with his son, Solomon to prepare him to become king. King David understood the importance of teaching his son to walk in God's ways and obey God's commands (see 1 Kings 2:1-4).
This was Old Testament. Does it apply to the New Testament as well?
When Jesus was asked what the great commandment in the Law was, remember what Jesus said. "Jesus said unto him, Thou shalt love the Lord thy God with all thy heart, and with all thy soul, and with all thy mind" (Matthew 22:37). Jesus was quoting Deuteronomy. "And thou shalt love the LORD thy God with all thine heart, and with all thy soul, and with all thy might." (Deuteronomy 6:5). If they loved God with all of their heart, soul and might, their obedience would reveal that love of God. The Pharisees and Sadducees were supposed to know and do this. Even the religious leaders could not refute this simple answer. Yet they did not understand. They did not believe Jesus.
"1. Whosoever believeth that Jesus is the Christ is born of God: and every one that loveth him that begat loveth him also that is begotten of him. 2. By this we know that we love the children of God, when we love God, and keep his commandments. 3. For this is the love of God, that we keep his commandments: and his commandments are not grievous" (1 John 5:1-3).
It is still important to obey God's commands that are found in the Bible. When reading Romans chapter 7, one can understand the importance of obeying not necessarily the letter of "The Law" but the spirit of the Law. "What shall we say then? Is the law sin? God forbid. Nay, I had not known sin, but by the law: for I had not known lust, except the law had said, Thou shalt not covet" (Romans 7:7).
Have you taken the time to teach your children to love God and to walk in His ways?